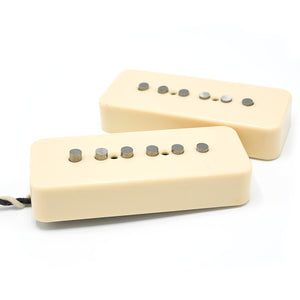 Bootstrap
Bootstrap USA Squeaky Clean Soapbar Set for Gibson® P90
Regular price
$49.99
$0.00
Thundering presence with crystal clear highs, our Squeaky Clean Soapbars deliver iconic P90 tone that cleans up well and is ready to get dirty too. 

Under the hood:
Forbon® vulcanized fiber bobbins
42 AWG pure copper wire with ruby enamel insulation
ALNICO 5 magnets, 50mm spacing
Push-back cloth leads with 22 AWG pre-tinned wire for easy installation
Potted in a mix of beeswax and paraffin
Chrome height adjustment screws and spring
~7.5kOhm resistance
*Please note that resistance values are approximate and may vary due to a number of factors including actual wire thickness, wire tension, ambient temperature as well as differences between multimeters. We accept a tolerance of +/-10% K Ohms. Bootstrap Pickups winds to a a set wind count, not resistance.
Bootstrap Pickups are wound-to-order in our small Ohio shop. Please check the Shop Notes page for current lead times.

Gibson® is a registered trademark of Gibson Brands, Inc. Bootstrap Pickups is not affiliated with or endorsed by Gibson Brands, Inc. and we do not sell products made or authorized by Gibson Brands, Inc.. Forbon® is a registered trademark of Ele Associates Global.

---
More from this collection