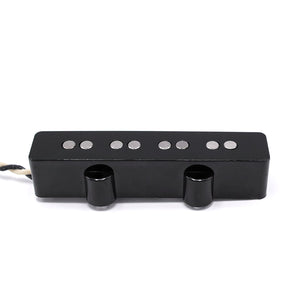 Bootstrapt
Bootstrap Vintage Low Wind Pickups for Jazz Bass®
Regular price
$34.99
$0.00
Our Vintage Low Pickups for JB are a lower-output vintage-style single coil for your Jazz Bass® guitar. This set features our 42awg ruby-enamel wire wrapped around ALNICO 5 magnets to a resistance of ~7.5K in the neck position and ~8.0K in the bridge. This recipe retains plenty of clarity while still providing plenty of boom.

Please note that we only offer this pickup in 4-string configuration at this time. We hope to offer a 5-string version soon.
Under The Hood

Forbon® vulcanized fiber bobbins
42 AWG pure copper wire with ruby enamel insulation
Fully charged ALNICO 5 magnets
RW/RP middle pickup for noise cancellation
Push-back cloth leads with 22 AWG pre-tinned wire for easy installation
Lightly potted in a mix of beeswax and paraffin
Chrome height adjustment screws and spring
Black covers

Resistance: ~7.5K Neck, 8.0K bridge

*Please note that resistance values are approximate and may vary due to a number of factors including actual wire thickness, wire tension, ambient temperature as well as differences between multimeters. We accept a tolerance of +/-10% K Ohms. Bootstrap Pickups winds to a a set wind count, not resistance.
Bootstrap Pickups are wound-to-order in our small Ohio shop. Please check the Shop Notes page for current lead times.

Jazz Bass® and Fender® are registered trademarks of Fender Musical Instruments Corporation (FMIC). Bootstrap Pickups is not affiliated with or endorsed by FMIC and we do not sell products made or authorized by FMIC. Forbon® is a registered trademark of Ele Associates Global LLC.
---
More from this collection