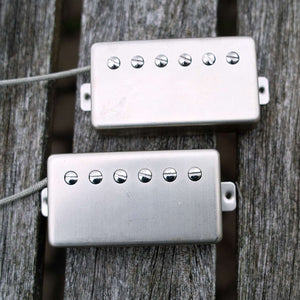 Bootstrap
Bootstrap Buckers - Sweet Serranos
Regular price
$42.99
$0.00
New to the Bootstrap lineup, our Bootstrap Buckers pack tons of tone at a killer price. Our Sweet Serranos are a versatile bucker recipe with a clean vintage neck and a smokin' hot bridge!
Under the hood
50mm Neck, 52mm Bridge pole spacing
Modern ABS plastic bobbins
Nickel-silver baseplate
Nickel-plated Fillister screw poles
Nickel-plated steel slugs
Sand-Cast ALNICO 5 magnet
4 Conductor shielded lead wire
Brass bobbin-mounting screws
Wax potted (Unpotted available - please message us prior to ordering)
Hard maple spacer
~7.3 kOhm Neck, ~15 kOhm bridge
Bootstrap Buckers are assembled in the USA with USA and foreign components.  Please note that the product photography shows a vintage braided pushback lead wire - these lead wires are temporarily unavailable.
---
More from this collection